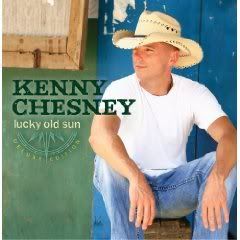 Things That Threaten My Sanity: Album Release Overkill
From a marketing standpoint, maybe there's no such thing as album release overkill. Doing everything within your power to get people excited about your artist's new music makes good business sense. From a consumer standpoint, however, there is definitely the possibility of being overwhelmed or put off by too much promotion. When an artist's promotional team starts piling gimmick upon gimmick, it can sometimes seem more like pushy desperation than savvy marketing.
Take all the hoopla about Kenny Chesney's new album, for example. The talk show tour happening this week is standard for artists of Chesney's magnitude; what isn't – or wasn't until recently – is the fact that by the time of the release week blitz, we've already been subjected to a weeks-long iTunes promotion that has gradually leaked bits of the album in an effort to work anticipation to a fever pitch. Oh, and each of the two major country music television channels is airing its own exclusive Lucky Old Sun special. And did I mention that as soon as we're through with all the release hubbub this week, the album will come out again next week?
Rather, the album will almost come out again next week. It will be short some songs and videos. In what basically amounts to a semantic mind game, they call the big version of the album "deluxe" and the smaller version "standard." Even though the deluxe version is the first to hit stores and the media blitz is timed to coincide with its release. The other (supposedly 'standard') version arrives later without much fanfare. If the album is due on October 21 but you release an expanded version on October 14, guess what? The album came out on the 14th. That's the real one. In terms of the way it's released and promoted, the deluxe edition should be considered standard. If they called it as such, though, they would have to come up with a new name for the second release of the album – perhaps something like 'the skimpy edition.'
Call me old-fashioned, but I prefer albums that are released once. Not now and again next week, and certainly not for weeks leading up to the 'official' release. I shouldn't have to play name games (deluxe? standard?) or get a PhD to understand exactly what's available when. Just give me a single release date. If I want the album, I'll go buy it. Simple, right? You can still go out on your promotional talk show tours; just don't introduce all sorts of unnecessary complications to the actual release of the album.
I can't help but wonder if all the energy and resources that go into turning the release of a measly CD into a never-ending promotional event might be better funneled into – oh, I don't know – improving the music itself. Ten years from now, I won't remember how creatively an album was released. The music is what lasts and matters, all the flash and sizzle of marketing notwithstanding.