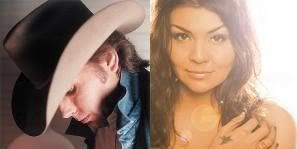 Things That Threaten My Sanity: Inaudible Influences
I understand that singers aren't usually going to sound just like the people they claim as influences. That would be mimicry, not artistry. But I think they should sound somewhat like their influences. There should be something – the voice, the phrasing, the instrumentation, the lyrical preoccupations – that puts you in mind of an artist's heroes. Without reading the PR material. Without thumbing through the iPod. Without them having to tell you. It should be in the music.
Take Dwight Yoakam as an example. He's a true original, fusing disparate elements from his diverse musical background in a way that keeps all those elements distinguishable in the mix. There's a lot going on, but the result isn't just a big confused mess. You can hear Buck and Merle and Johnny Cash and Elvis and Ralph Stanley and others – sometimes all at once – but the sound is still distinctly Dwight. No need for name-checking or photo-ops with his heroes or anything of the sort. It's all in the music. And when Dwight does take the time to talk to some reporter about the lasting legacy of Buck or Elvis or anyone else, he can speak with authority. Because he lives it.
On the other end of the spectrum, there's Crystal Shawanda. I realize that as a new artist on a major label she doesn't have the same creative freedom or right to self-expression as Yoakam. Maybe she wanted to debut with a very traditional country album and her label nixed the idea, though the rocked-up, bluesy version of "Your Cheatin' Heart" which she apparently brought to the table herself makes me wonder. Whatever the reason, the idolization of Loretta Lynn that came up in virtually every pre-release interview is in scant evidence on the album itself, which owes much more to Gretchen Wilson and Jo Dee Messina than the Coal Miner's Daughter. I don't care what style of music you make as long as you're honest about it. When you promise me Loretta and give me Jo Dee, you're starting our relationship off on the wrong foot.
Perhaps Shawanda just wasn't specific enough in her Loretta references. If she had said "I personally relate to the attitude and songs of Loretta Lynn, but musically I have as little to do with her as anyone else on the radio these days," maybe I wouldn't have gotten all mixed up. There are different kinds of influence. I didn't understand. It's great to like artists, to have been raised on their songs, to identify with their stories. But, as a music listener, I only care about influence I can hear.