The Problem with Caitlin & Will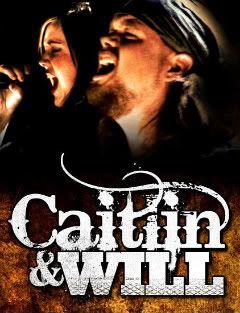 Caitlin Lynn and Will Snyder recently won a Sony record deal on CMT's Can You Duet. Their debut single "Even Now"
is at radio now. Is this the beginning of the "next great country duo" (as CMT bills them) or just another failed launch of a new act?
My money is on the latter.
Not because I'm bitter. Although I was rooting for Joey and Rory, the most traditional duo on the show, I never really thought the judges would let them win. I figured they would just keep them in until the finale to keep traditional-minded viewers watching, then give the prize to someone else. And that's exactly how it ended up playing out. Still, even I have to admit that Joey and Rory's performance on the finale was uncharacteristically mediocre. Coupled with Caitlin & Will's upward swing in the last couple episodes, I thought the outcome was fair and even somewhat inevitable. I was happy for the winning duo.
Nor does my prediction have anything to do with image. While I have heard some harping on the "plus-size" of Caitlin & Will, I'm not convinced that it matters. I think the country music audience will readily embrace stars who look a little more like themselves if all the other pieces are in place. [Again, if all the other pieces are in place. Some heavier singers blame their lack of success on the audience's weight bias, conveniently overlooking their own conspicuous lack of talent.]
In fact, the reason I think it will be an uphill climb for this new duo has nothing to do with them, per se. It has to do with poor timing.
A gritty-voiced male singer sharing vocal duties with a powerhouse female singer. Sounds like a novel idea, right? Something we haven't heard in a while? It would… if not for Lady Antebellum.
Now, I don't pretend to understand all the Lady Antebellum hype. But here's what I do know: They formed in 2006, were signed in 2007, released their first single in October of that same year, debuted atop the Billboard country album chart six months later (April), won the ACM for best new group or duo the following month (May), and took their debut single all the way to #3 earlier this month (June). The industry buzz about them has been enormous.
I understand all that. I just don't understand why. I mean, they're good. Charles Kelley and Hillary Scott are capable singers, and the group seems to have emerged fully-formed and radio-ready. But they aren't Jesus or anything. Why the meteoric rise to fame? I don't get it.
In any case, for Caitlin & Will, what should matter most about Lady Antebellum is that they recently released their second single. "Lookin' for a Good Time" is different than "Love Don't Live Here" in that it prominently features the voices of both of the group's lead singers. This means that Lady Antebellum is effectively making their radio debut as a male-female duo at the same time as Caitlin & Will… with the curious advantage of already being an established (if new) country act coming off of a highly successful debut single.
If radio stations, with their ever-shrinking playlists (thanks, Clear Channel!), are going to make room for one male-female duet by a new act, it's going to be the one by the group with all the momentum behind them. #1 album, #3 debut single, ACM award, etc., trumps winners of obscure CMT singing competition.
But radio could play both of them, right? Could, yes. Will, probably not.
If the example of Chris Young and Jason Michael Carroll (alluded to in an earlier post) shows us anything, it's that when two similar acts appear around the same time, one wins and one fades into obscurity. Both Young and Carroll released debut singles in the second half of 2006. Their voices were almost spookily similar. For my money, Young was the better singer with the more marketable (more conventionally masculine) image. But he's not the one who now has two top ten singles under his belt. Chalk it up to timing, dumb luck, the right song, whatever.
When two similar acts arrive on the scene around the same time, they are effectively competing for the same slot on the radio. One wins and one loses. In the case of LA versus C&W, the deck is already stacked.
Sorry, Caitlin & Will. I still like you.
Prefer email? Nothing wrong with that!
25 Comments
Trackbacks
Leave a Response
If your comment doesn't show up right away, it hasn't been lost. Give it a few minutes.