In the six years since I moved to this city, I've mastered the layout of the local Walmart right down to the location of the smallest and most obscure item. I'm still not very good at finding the quickest routes, though, as I've convinced myself that going anywhere in the store requires passing through the music section. And passing through the music section requires flipping through all the country CDs by hand to make sure I'm not missing any killer deals. And if they have cheap Vern Gosdin CDs that don't appear to be moving, it's my duty to buy them and ship them off to people on the internet.
Over the past few months, I've watched the country section (and the whole music section) shrink. It now takes up less than half the space it did a year ago. It has also been pushed back a little farther into the corner, so that it's no longer really on the way to anything. Oh, but it is just across a narrow aisle from the big flat-screens, which means I have to battle for precious aisle real estate with a bunch of frothy-mouthed gawkers who (if they're anything like me) can't afford those HD luxuries anyway. Keeping my spot in front of the Haggard section sometimes means elbowing strangers in the face, but in my experience it's usually worth the effort.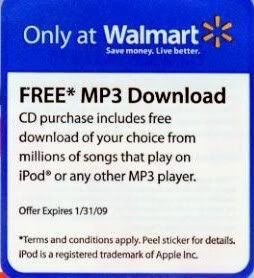 None of those gradual changes prepared me for what I saw last Tuesday, though. Upon arriving at Walmart and making a beeline for the music section, I found the sticker at left on every single CD in the store. Obviously, this freebie is not about adding value for CD consumers as much as it is about giving them somewhere to go when their favored format inevitably goes the way of the vinyl record and the audiocassette. The company wants to familiarize customers with its online offerings so that, as its in-store selection continues to wither away to nothing, they'll have a natural, comfortable entry point into the world of music downloads. We've all heard about how the end of the CD era is upon us, but the sight of hundreds of jewel cases doubling as mini MP3 billboards made me feel the changing tide more acutely than ever.
Thoughts on Walmart's strategy? News on changes at CD retailers in your area?
Update: Photocrap has kindly translated the sticker into layman's terms.