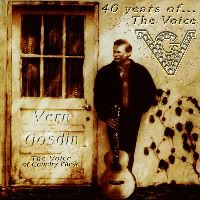 I don't know the whole story behind this deal, but it appears that the entire Vern Gosdin boxed set, 40 Years of The Voice, due for release next month is already available for download from the major online music stores. Amazon MP3, iTunes, and eMusic all show it as having been available since the end of August.
That's good news, but what's even more astonishing is that the set is less than $10 from both Amazon and iTunes. Amazon has the cheapest price at $8.99, but even at iTunes' steeper $9.99 price tag, you're paying less than a dime per song. There are 101 songs in the set, and they're good songs sung by one of country music's best voices. Even if you've never heard a Vern Gosdin song, what do you possibly have to lose at this price?
Plus, according to an earlier press release, proceeds from this boxed set (presumably including download sales?) will go toward a new storm relief project called Voice for Relief. The details of the boxed set, the storm relief project, and Gosdin's involvement in each are still a bit hazy to me, but the bottom line for you is criminally inexpensive music. And probably throwing a little support behind a good cause along the way.
This could be the wisest purchasing decision you ever make.
40 Years of The Voice at Amazon MP3