In a career that spans three decades, North Carolina-born songwriter Byron Hill has had his songs recorded more than 575 times. Among those recordings are hits like "Fool Hearted Memory" (George Strait, 1982), "Nights" (Ed Bruce, 1986), "Born Country" (Alabama, 1992), "Lifestyles of the Not So Rich and Famous" (Tracy Byrd, 1994), "If I Was a Drinkin' Man" (Neal McCoy, 1995), "Nothing On But the Radio" (Gary Allan, 2004), and "Size Matters" (Joe Nichols, 2006). He has also accumulated some notable credits as a producer, including work on Kathy Mattea's self-titled 1984 debut, Gary Allan's first three albums (including the highly-acclaimed Smoke Rings in the Dark), and recent releases by Canadian artist Gord Bamford.
It's a pleasant surprise to find that someone so entrenched in the Nashville music community – someone who has, after all, also written hits for such poppy acts as Johnny Lee, Anne Murray, and Restless Heart frontman Larry Stewart – is unafraid to strip the music down to its essence on his own albums. Gravity… And Other Things That Keep You Down to Earth and Ramblings, both quietly self-released on BHP (Byron Hill Productions) Recordings in the past decade, are sturdy acoustic affairs that wisely keep the emphasis on lyric and voice without ever sacrificing melody.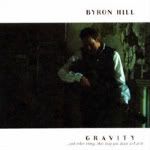 On Gravity (1999), Hill's warm, workmanlike voice – which often recalls Don Williams – wraps itself around songs about love in all its various phases. Sometimes, he's falling head over heels – looking at his lover through "Eyes of Wonder," marveling at his own giddiness ("That's What Love Will Make You Do"), or realizing that his days of searching are over ("Love's in the Here and Now"). More often, he plays the confounded and the left-behind. He wishes he had left a "Trail of String" when he walked out on her, dreams of locking a cheater up for her "Serious Crime," goes into a post-breakup nosedive on "Gravity," dreams that she'll come calling again on "Hold That Thought," and offers himself as her fallback on "Plan B." By the time he gets to "Politics, Religion, and Her" (a 1997 hit for Sammy Kershaw), he just doesn't want to talk about it anymore. Another familiar song, "Took Her to the Moon," puts Hill's regular-guy charm on full display and is one of the album's highlights. Trace Adkins recorded it on Big Time back in 1997, but there's more warmth and humor in this version.
Throughout, the instrumentation is tastefully sparse, a mix of acoustic guitar, upright bass, fiddle, mandolin, dobro, and harmonica in which every note means something and the playing is sharp but never showy. The music accents rather than overshadows Hill's smart, unadorned lyricism and natural sense of melody. It might not be great driving music, but it's perfect for a lazy day in the hammock.
Ramblings (2004) subtly embellishes Hill's sound without distracting from its lyrical focus. A few new sounds enter the mix, most notably drums/percussion and banjo. These additions lend many of the songs an extra propulsive energy that makes this album, on the whole, seem a bit brighter and more up-tempo than Gravity. It's also a little more melodic and hooky. This means that even if you do find a song like "Humdinger on Her Finger" hopelessly corny, it will probably get stuck in your head anyway. Thankfully, most of these songs are good enough that you won't mind humming them for the rest of the day. One of them ("Pages of My Mind") even gave Ray Charles his last entry into the country Top 40 back in 1986.
That's just one of the many relationship songs here, as love remains Hill's favorite subject: three songs about falling in love and six about break-ups and love lost. Significantly, these latter songs are not about falling out of love – the male speaker is, almost without exception, eager to resume the relationship. The variety of ways that Hill and his co-writers find to write this same basic theme is impressive. Still, Ramblings wisely widens its scope by dealing in other subjects from time to time, including memory ("Cobbtown" and "Traditions"), finding contentment ("Like a Country Song" and "Life Will Kill You"), and life on the road ("Truckstops, Honky Tonks, and Cheap Motels").
Hill again proves himself a capable and engaging singer and the instrumentation, while beefed up slightly this time around, remains relatively sparse. The voice and the words are primary, clearly a deliberate choice on Hill's part. (Whereas his debut album was co-produced with B. James Lowry, this time he goes it alone.) In "Traditions," he voices nostalgia for a time
When a singer sang and we felt what he's saying
When the words came from the heart
Not just to make the chart
That's the way the greatest songs were written
I don't know if any of the songs here achieve that sort of greatness, but they certainly place Byron Hill firmly in the tradition of unassuming singer-songwriters who write and deliver deceptively simple, heartfelt poetry set to a memorable tune. It's music worth seeking out.
————
For more on Byron Hill, visit his website. His albums are available from his site, CD Baby (hard-copy or MP3), or iTunes.