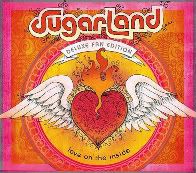 I complain when an artist puts out an expanded version of an existing album to boost sales – I'm looking at you, Blake Shelton – so it only seems right that I should praise Sugarland for doing the opposite.
The deluxe fan edition of Love on the Inside was released today, and it contains 5 bonus tracks that will not be on the standard release next Tuesday. Which begs the question: Who will wait an extra week to get an album with 5 fewer songs? Probably the same people who paid QVC $20+ to have Randy Travis' new album shipped to them eventually rather than picking it up at Target on release day for $8. But I digress.
Sugarland's inventive release strategy introduces a new (to me, at least) phenomenon: the shrinking album.* The earlier you buy, the more album you get. I like that. It's a refreshing change from the expanding album ("If You're Reading This" added to Let It Go), which puts its earliest buyers at a disadvantage a few months down the road when the album comes out again, bigger and better. Do you suck it up and buy the album again? Just buy the added tracks? Either way, you're probably paying more than the casual straggler who happens upon the album for the first time in its expanded version.
So, kudos to Sugarland for rewarding those who rush out to buy the album as soon as it hits stores. It's a nice gesture that should pay off handsomely for them in album sales and good will.
I just wish they had pushed the concept even further. I'm guessing that the deluxe edition will still be available next Tuesday when the standard edition comes out, so even the semi-hardcore fans will have the option of buying the longer album. That's not fair. As a purchaser of the deluxe fan edition – which makes me, if I understand this correctly, a deluxe fan – I want my investment and status protected. How many copies of the deluxe edition are there? How long will they be available? I don't want them in the hands of just anyone. I demand answers.
If it were up to me, the deluxe edition would cease to be available next Monday at 11:59pm. Everyone buying the album on July 29 would have to settle for 12 tracks. Sorry… you had your chance. It wouldn't stop there, either. The album would continue shrinking. On the one-year anniversary of the album's release, all remaining standard copies would be swept from the shelves and it would be reissued in an 11-track version. ("All I Want To Do" would be removed. Thank me later.) On 7/29/10, it would be reissued in a 10-track version. This would continue every year. By 2019, it would be down to one song, which would necessarily be the "Very Last Country Song." After that? Implosion.
Okay, that was a little far-fetched. Sorry. I'm just steamed because I don't have the golden ticket.
* Before anyone mentions it, I'm familiar with retailer-specific exclusives released concurrently with an album… but an expanded version released everywhere before the standard album? That's new to me.