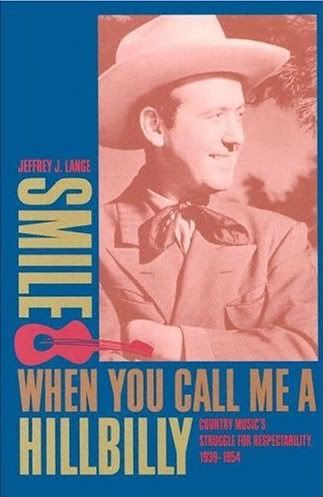 Smile When You Call Me a Hillbilly:
Country Music's Struggle for Respectability, 1939-1954
University of Georgia Press, 2004
Jeffrey J. Lange
If the mention of respectability in the subtitle of Jeffrey J. Lange's Smile When You Call Me a Hillbilly leads you to expect a reception-based account of what was happening in country music between 1939 and 1954, think again. This book is not so much about how the public perception of country music changed during those years as it is about how the music itself changed to maintain and expand its audience in the midst of great societal tumult. As the World War II era permanently changed the lives of country music's rural southern base, the music adapted and followed its listeners – into the big cities, up North, out West, overseas, and through changes back home. Simultaneously, it shed some of its rustic qualities, subtly (and sometimes not-so-subtly) modernized its sound, and reached out to new audiences everywhere it went to become a major player on the national scene.
If it sounds like the genre was spreading itself a bit thin – or trying to be everything to everyone – it's important to note that one monolithic country music did not go everywhere. Lange identifies six distinct subgenres and traces the changes within each over the fifteen-year period. Different subgenres served different audiences and stretched the field of country in different directions.
The subgenres defined by Lange are progressive, western swing, postwar traditional, honky-tonk, country pop, and country blues. The progressive subgenre is made up of performers who experimented with modernizing the older traditions in the years leading up to the war. After the nationalization of country music during the war, which rightly gets its own chapter, two subgenres arose to reaffirm the music's southern roots. Postwar traditonal (including early bluegrass) appealed to the rural southern folk back home while honky-tonk spoke to the sense of dislocation felt by those transplanted to urban areas. Western swing and country-pop each in their own way embraced urban influences, while country blues was a step toward what would soon become rock 'n' roll.
Lange structures his argument around those classifications, but the meat of the book is what happens within each chapter. He maps the development of each subgenre through a series of 6-10 key acts, using the personal and musical paths of specific performers to illuminate larger trends. The acts featured are a mix of the usual suspects and a number of more obscure selections. Lefty and Hank show up, but so do four other Hanks, Pee Wee King, the Shelton Brothers, Cliff Bruner, and a host of others whose names you don't often encounter.
The author's extensive research into each act's recorded output shines as he traces changes in their music over time (instruments entering and leaving the mix, shifting lyrical interests), situates them in the context of what their contemporaries were doing, and weighs their lasting contributions to the musical form. Resisting the tendency to figure all change as sellout, Lange points out ways in which nearly all of the performers subtly experimented with and modernized their sound during the time period. Biographical and historical research provide generous support and context, but this book is at its most distinctive when it is carefully attending to the music itself.
Although Smile When You Call Me a Hillbilly does make a strong case for 1939-1954 as a pivotal time in the history of country music, it is not a perfect book. The argument sometimes meanders and repeats itself. Chapters tend to flit through ten performers in the space of thirty pages, with no subheadings to break up the text. This can get a bit dizzying, especially when you're trying to remember a detail about one of the dozens of acts you've encountered. Or when the Delmore Brothers suddenly reappear 180 pages later and you have to jump back to the beginning to remind yourself of their history. I'm glad I read the book once, but I can't see myself reading it straight through again. For me, its lasting value will be as a reference book, a ready source of perspective on some of the major figures of the era.
For anyone who has ever lumped 'all that old music' together, Smile provides worthwhile insight into the diversity and importance of country music at a critical time in its – and the world's – history.
Check out Smile When You Call Me a Hillbilly
at Amazon.