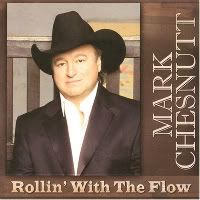 After honky-tonkin' his way through 2004 and going the classic country route in 2006, Mark Chesnutt is back to making regular old Mark Chesnutt albums. While Rollin' with the Flow
has neither the infectious swagger of Savin' the Honky Tonk nor the throwback quality of Heard It In a Love Song, it feels in some ways like a more balanced effort than either of those collections.
The album covers a range of country styles, with traditional numbers like "She Never Got Me Over You" and "Things to Do in Wichita," Jennings-esque stompers like "Live to Be 100" and "Long Way to Go," the softer countrypolitan sounds of "Rollin' with the Flow" and "When I Get This Close to You," the Cajun inflections of "Going On Later On," and even the roadhouse funk of "(Come On In) The Whiskey's Fine." Chesnutt's ability to work within each of these styles without losing his own personality or coming across as a musical schizophrenic is impressive. The album coheres, making for a listening experience that's both smooth and varied, due in large part to the self-assured versatility of the voice at its center.
As is common for albums by '90s traditionalists aiming for commercial revival in the 2000s, the quality of writing is not always what it should be. "When You Love Her Like Crazy" doesn't go anywhere, crippled by a weak and improbable turn of phrase. "Live to Be 100" has a shelf-life of approximately one listen before the joke starts to curdle. "Man in the Mirror" is a fairly nondescript father-son song – think "Back When I Knew It All" (Montgomery Gentry), "Measure of a Man" (Jack Ingram), "I See Me" (Travis Tritt), or "Cool" (John Michael Montgomery). The song isn't terrible, but the theme is certainly a bit stale.
Still, the writing succeeds often enough to keep the ball rolling, which is really all that's required on an album by a singer of Chesnutt's caliber. He can squeeze the best out of even the most lackluster material, so when he catches hold of a really exceptional piece like "She Never Got Me Over You" – penned by Keith Whitley, Hank Cochran, and Dean Dillon – he's damn near unbeatable. His interpretive ability puts him in the company of guys like George Jones and Randy Travis, vocalists who intuitively use every syllable and are able to convey worlds of emotion through the slightest change of inflection.
Rollin' with the Flow isn't a home run, but above-average songwriting and sonic diversity do make it a fine platform for one of country's most reliable voices. As standard Mark Chesnutt albums go, this one belongs somewhere near the top of the heap.
Though I'm personally still holding out for Savin' the Honky Tonk II.
Rating (out of 4): ♦ ♦ ♦