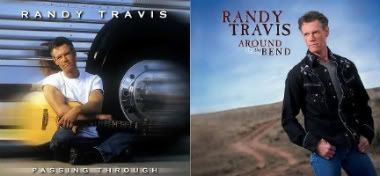 Randy Travis' next album, "Around The Bend," is set for release July 15, and it marks the end of a long absence for him. It will be the first country CD he's put out in eight years. (GAC)
It's not just GAC. This is the way the story is being told everywhere: Travis returns to country after eight years in gospel to record what many (including Robert K. Oermann and Chet Flippo) are calling one of the year's best albums. It makes for good copy, but it just ain't so.
Unlike the unidentified marketing experts responsible for spreading this misinformation, I don't think we have to forget Passing Through in order to enjoy Around the Bend. Remember Passing Through? After the surprise success of "Three Wooden Crosses" in 2003, Travis put out his first country album since 1999's A Man Ain't Made of Stone. Two singles from that 2004 album – "Four Walls" and "Angels" – were released to country radio. The second even had an honest-to-goodness music video to go with it. For whatever reason, both singles stalled outside of the Top 40. The big comeback propended by the success of "Three Wooden Crosses" never came to pass. By 2005, Travis was back to recording gospel music on the excellent Glory Train.
Perhaps I've got it wrong. Was Passing Through not a country album, but rather a country-flavored inspirational album? To my ear, it's the same sort of pure country that Travis usually favored before his gospel turn. There has always been an inspirational element to his music – his songs deal more often in love and morality than carousing or honky tonk life – so it's not fair to say that the overall uplifting tone of Passing Through makes it any less a country album than Storms of Life or Always and Forever. Indeed, I'd say it's about as country as they come.
Genre definitions vary, so I don't necessarily expect you to buy into mine. In fact, my belief that Passing Through is a country album matters a lot less than the fact that, back in 2004, it was being promoted as one. The Amazon description of it reads:
The November 9 release of Passing Through is poised to expand on Randy Travis' recent success with his new country album. Produced again by friend and long-time collaborator Kyle Lehning. Passing Through is a superbly produced collection of country songs that reflect Travis' faith… not to mention his unmistakable voice!
Meanwhile, the Passing Through liner notes on Randy's own website quote him as saying:
"Three Wooden Crosses" was the first time that Word had gone to country radio and gotten air play… So it made sense that Passing Through would be another first for Word — to put out an album that's pure country from beginning to end.
So the album was pure country in 2004, but is being redefined in 2008 as part of his 'detour' into gospel. Why the shifting genre classification?
I'll bet it has to do with the fact that Passing Through, which was supposed to be Travis' triumphant return to the country format, didn't exactly pan out as the label had hoped. Now, in the promotional push for his second comeback attempt, it's simply most convenient to ignore his previous, unsuccessful return to country. It makes for a better story, a more satisfying comeback narrative. With Passing Through swept under the rug, his last country album becomes A Man Ain't Made of Stone – an album which begat a Top 20 single. Now that's history worth claiming.
In a way, you have to admire this bit of revisionism. When Travis started recording Christian music back in 2000, some in the country world wrote him off; his commercial country days were behind him and he seemed to be putting himself out to pasture. That's not actually how it was – Travis had a remarkable string of success in the gospel format, far from a dying whimper – but that's what some people thought. Now he's using dismissive attitudes toward Christian music to his advantage, stowing an undesirable piece of his country career under the gospel tent, where he knows it can hide in plain sight.
Join me next Tuesday in buying Randy Travis' first country album in four years. It's sure to be a good one. If you happen to see Passing Through while you're at the store, pick that one up too. You'll like it.