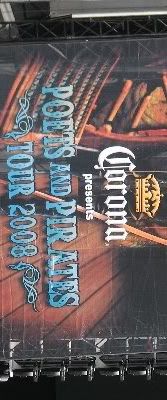 Soul2Soul. Poets & Pirates. Bob That Head. Country music acts put on some of the biggest concert tours, but seem woefully inadequate when it comes to thinking up descriptive, interesting names for them.
Clearly, they need our help. I'll throw out a few suggestions; you feel free to jump in with your own. The trick is to come up with a name for the tour that really captures the essence of the act and its live show. Even lesser-known artists tour, so don't feel confined to the big names. Every concert tour deserves a fitting title. Without further ado:
Toby Keith – The Self-Indulgent Spectacular
Lee Greenwood – Twenty-Five Years of Mediocrity: A Retrospective
Lost Trailers – The (Unwitting) Farewell Tour
Jessica Simpson – Do You Know (That I Really, Desperately Need Your Approval)
Brooks & Dunn – Verizon Presents… The Phoning It In Tour
Little Big Town – Fleetwood Mac Live!
Buddy Jewell – Love It Or Leave It (Hey, Where Y'all Going?)

Lonestar (feat. Cody Collins) – Three Men and a Baby
Tim McGraw – Tim McGraw's Autotuner Expo
Gretchen Wilson – Gretchen Wilson 7pm 21+ No Cover
James Otto – Geico Presents… Caveman Live
Josh Gracin – Concert Tour (Ann Marie)
Heartland – Where'd Our Other Fourteen Minutes Go?
Kenny Chesney – The Tortoise Sans the Hair
Darius Rucker – Stop Calling Me Hootie, Guys. It's Not Funny.