More Country Concert Tour Names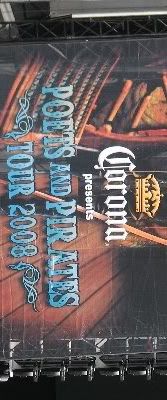 Soul2Soul. Poets & Pirates. Bob That Head. Country music acts put on some of the biggest concert tours, but seem woefully inadequate when it comes to thinking up descriptive, interesting names for them.
That's the same introduction I used seven weeks ago. Frankly, I didn't think I'd have to do this again. The industry still needs our help, though, so I'm stepping up to the plate once more with a whole new list of suggested tour names. As is usually the case around here, you're welcome to make your own additions in the Comments section.
Kristy Lee Cook – Why Wait (Leave Now)
Hank Williams III – @!%$ &*$&#!!
Martina McBride – On a Showboat to Branson
Jimmy Wayne – Hot Topic Presents… An Emo Evening with Jimmy Wayne
Mindy McCready – Live in Tennessee, Cellblock 4
Jessica Simpson – Remember That (I Really, Desperately Need Your Approval)
Sawyer Brown – The Mark Miller Dance-Dance Extravaganza
John Rich – Johnny Cash's Favorite Concert Tour
Jamey Johnson – Curse of the Badonkadonk (No Requests, Please)
Bucky Covington – Mustachioed Magnificence
Big Kenny – John Who? Don't Know Him
Sugarland – The Nettles & Bush Traveling Country Revue-ooh-ooh-ooh-ooh
Toby Keith – Itch in My Niche
Zac Brown Band – Soldiers Are Fighting For Your Right to Come Get Hammered At Our Show, So You Should Totally Do It
Rascal Flatts – Prayin' for House Lights
Kenny Chesney – The Tropical Irrelevance Tour
Prefer email? Nothing wrong with that!
7 Comments
Leave a Response
If your comment doesn't show up right away, it hasn't been lost. Give it a few minutes.