Merchandising: A Little Something Extra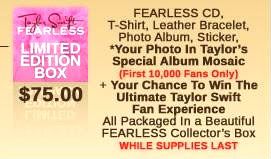 You have to hand it to Taylor Swift: she knows her audience. You can bet that young girls and their parents will be snapping up these boxed sets like mad to claim their t-shirts, bracelets, photo albums, stickers, bragging rights (one of Taylor's 10,000 biggest fans!), and chances at meeting the singer herself. If this is the first you're hearing of the Fearless preorder offerings – and honestly, if that's the case, I envy you – click the image to visit the Taylor Nation site for a good laugh.
Anyway, since these package deals are apparently the latest trend, I figured we could help the record companies slow the decline of the CD by brainstorming some package deals for other artists. The trick is to match the merchandise to the artist and his/her fanbase. I'll start…
Kenny Chesney
Flip flops, sunscreen, a peg leg, an eyepatch, a chance at an exclusive flyaway and meet-and-greet with Jimmy Buffett
Jeff Bates
A collectible Elvis Presley plate set, an autographed Conway Twitty VHS tape, a free six-month trial of AOL dial-up, moon pies
Toby Keith
A ratty cowboy hat, a miniature Ford truck, Broken Bridges and Beer for My Horses on DVD (have to sell 'em somehow!), promotional inserts on Trailer Choir (have to sell 'em somehow!)
Sugarland
Happy pills, Crest Whitestrips, a silly hat, a pair of Bon Jovi legwarmers
John Rich
Hot air, a golden John Rich idol, a commemorative plaque featuring the titles of all radio singles written or produced by John Rich, a promotional Gone Country hat, a "You Know I'm From Texas, Right?" bumper sticker, a blank application for Hispanic country singers
Joe Diffie
Anything you want! No, really, what do you want me to put in the box!? What about on the CD? Do you think radio will play it?
Julianne Hough
Bubble gum, Skittles, lip gloss, Ballerina Barbie, empty space
Billy Currington
A bouquet of roses, a belly shirt, a signed copy of Currington's upcoming book: A Georgia Boy's Guide to Metrosexuality
Garth Brooks
A retirement tour schedule, a catalog of various upcoming 'greatest hits' packages, the shattered remnants of Garth's artistic credibility
That's 9. Don't you hate uneven numbers? Your turn.
Prefer email? Nothing wrong with that!
2 Comments
Leave a Response
If your comment doesn't show up right away, it hasn't been lost. Give it a few minutes.