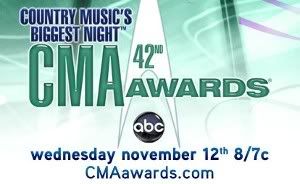 I don't know what any of my easterly neighbors in the country blogging world have planned for Wednesday, but I'll be here at 8pm Pacific Time to live blog the CMA Awards. I've always had to sit out live blogs in the past because of the time difference ("live" usually means hours early here), so this time I'm throwing the party myself.
I'll be prepared to do it alone; luckily, I have no qualms about talking to myself. I know there are a few readers scattered around this timezone, though, and it'd be great fun to have some of you here for the shindig. Bring some snark and we'll make it a potluck.
I recommend that you get a Blogger/Google account and stay logged in for the duration of the event. That way, your identity will be pre-selected in the dropdown menu and commenting will be as simple as typing words and hitting Submit. If you want to get that set up now, feel free to use this post as a testing grounds.
[Those who've had trouble with the commenting system are also encouraged to give this a try. Might make things generally easier for you, since wonderful blogs like Music Tomes, Photocrap, and Melodic Sunburst all use the same system.]
If Country Universe or The 9513 also live blog the event, join me in not reading theirs until we've had ours. Why should those geographically disadvantaged non-westerners have all the fun?