"Johnny and June" – Heidi Newfield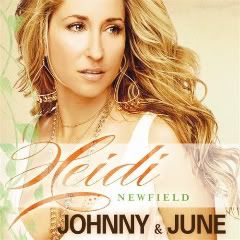 Name-dropping songs are a dime a dozen these days. Taylor Swift hit big with "Tim McGraw." Now, Tim McGraw is giving "Kristofferson" a shot. No word yet on when Kris Kristofferson will begin writing "Taylor Swift," but rest assured that it will be a doozy.
I hate this trend. For my money, the worst is "Johnny Cash," a song which I've had the misfortune of hearing in two different versions – the Jason Aldean single and the earlier Tracy Byrd album cut.
"Johnny and June" scared me right up until the moment I listened to it. Thankfully, the former Trick Pony frontwoman's debut single digs deeper than any of its immediate predecessors.
It does not just name-check the Cashes in passing; it takes their story and elevates it to the status of a country Romeo and Juliet. It succeeds precisely because that's just where Johnny and June belong. Through all the Cash-mania of the past few years, they have become our modern version of the all-consuming romance. Don't we all "want to love like Johnny and June," even if our only concept of what that means comes from a critically-acclaimed (if formulaic) musical biopic?
Shelby Lynne covered similar thematic ground back in 2005 with "Johnny Met June" (from Suit Yourself
). That song was a quiet, elegant eulogy written on the occasion of Johnny's passing.
Newfield takes a different tack, belting out "Johnny and June" with all the passion and energy called for by the lyric. It doesn't hurt that she also happens to possess one of the genre's strongest female voices, with all the power and grit necessary to give "Johnny and June" their due.
Rating (out of 4): ♦ ♦ ♦
Prefer email? Nothing wrong with that!
2 Comments
Leave a Response
If your comment doesn't show up right away, it hasn't been lost. Give it a few minutes.