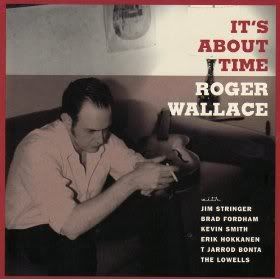 You know, different people have different definitions of productivity. I guess it would probably take another obsessive music fan to understand why discovering, researching, and downloading nearly the entire discography of Roger Wallace was, in fact, an excellent use of my Monday afternoon.
Sure, I had other things to do. Sure, I've been writing thinking about writing this one review for well over a week and had a window of time open yesterday to finally get it done. If I had gone that route, I'd probably be feeling accomplished right now, as though I had finally shaken a nagging feeling of negligence. But you know what? I don't care. I didn't do the review, I listened to some Roger Wallace, and now I'm feeling fulfilled instead of accomplished. I'll settle for fulfillment.
Wallace is a modern honky tonk man originally from Knoxville, TN who has made his home in Austin, TX since 1994. His debut album came out in 1999. He has released three more since then, with his most recent being 2007′s It's About Time. He makes traditional country for people who understand that George Strait isn't really all that traditional anymore. Fans of Dale Watson and Hank III should hear him loud and clear.
Judging from the extensive commentary on the recent presidential election on his Myspace blog, Wallace is also a very intelligent guy. (Regardless of what you think of his politics, it's obvious that he could talk circles around either Toby Keith or Natalie Maines; he's just thinking on a whole other level.) There's also a Soapbox section on his main website, which features commentary stretching all the way back to 2002. One notable post is titled 10 People I'd Really Like to Punch in the Face, with Kenny Chesney, Tyra Banks, and Jerry Falwell all making appearances.
Unlike Robbie Fulks, another brainy purveyor of classic country, Wallace's take on tradition seems almost wholly free from irony. He sings like he means it, with an emotive voice that can twist and turn, whisper and wail right along with the best of his heroes. His material is mostly self-written, with savvy cover selections like "The Last Word in Lonesome Is Me" (Roger Miller) and "Your Time's Coming" (Faron Young) thrown in for good measure. For someone who seems to be quite outspoken as a person, Wallace makes music that's refreshingly simple and emotionally grounded.
Oh, and he's not afraid to go dark: "The Confession," which closes Wallace's most recent album, is a riveting 7+ minute story song (Wallace calls it "an epic murder ballad with an ontological bent") about a drug dealer who beats a preacher to death with a statue of the Virgin Mary after finding the man in bed with his (the drug dealer's) wife. Okay, maybe not very Christmasy, but it's an astonishingly interesting piece of work.
I just started listening to the guy yesterday, so this isn't a full review. Consider it a hearty recommendation. To hear some of Roger Wallace's music, visit his Myspace or his website, which includes a number of full-length MP3s for your listening pleasure.
I should probably get back to work now.