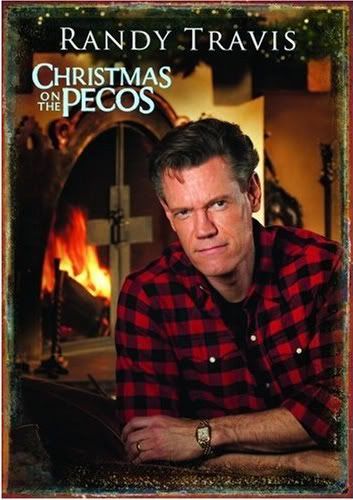 Christmas on the Pecos, the new holiday DVD from Randy Travis, has all the craggy charm of its star. Filmed at two consecutive shows in the small, seemingly starstruck city of Carlsbad, New Mexico, the program overcomes many obstacles on its way to being a consistently affecting and often quite beautiful holiday experience. Its imperfections are many, but the fact that Christmas on the Pecos seems a bit more like a well-done church program than a professional DVD release is part of its unassuming appeal.
Oddities abound, from a couple noticably sloppy video edits (positions and lighting change suddenly in what would otherwise appear to be continuous shots, creating unintentional I Dream of Jeannie style camera tricks) to the more general problem of unfocused song selections ("Forever and Ever Amen" and "Three Wooden Crosses" fit with the sentiments of the season, but still feel a little out of place alongside honest-to-goodness Christmas songs). There's also a moment when Travis' in-concert introduction to a song about sopapilla cuts away to a quick Food Network style definition of the term, complete with a hand model holding the food in question, before returning to the live performance shot. It gets the job done, but not without a goodly helping of awkwardness.
Still, it's amazing how little those quibbles matter when Travis gets down to the business of applying his well-worn baritone to a series of cozy Christmas classics. All the performances are characteristically solid, but particular highlights include a cover of the Willie Nelson classic "Pretty Paper," a chilling choral performance of "Silent Night" shot underground in the visually and acoustically impressive Carlsbad Caverns, and a dramatic reading of "The Christmas Guest." The show features a fairly well-balanced mix of tempos, though slower numbers like "God Rest Ye Merry Gentlemen" and "The Christmas Song" seem to reveal Travis' voice in the fullest and most favorable light.
All told, this is warm, family-friendly entertainment that occasionally stumbles along the way but ultimately manages to capture much of the spirit of the season. Fans of Travis will appreciate the opportunity to spend a night of holiday-themed song, storytelling, and even comedy with one of country music's finest. And who knows but that some non-fans might even see the light.