And the Best Christmas Album Is…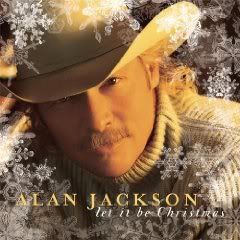 This is just a PSA to let you know that if you haven't been listening to Alan Jackson's Let It Be Christmas so far this month, it's not too late to start. Christmas is still two weeks away. I have a rack full of Christmas albums, but Alan pretty much owns the month of December in my house. Something about that warm, burnished voice wrapped around those old classics (and an original that holds its own) perfectly sums up the feeling of the season to me. Nobody does sentimental or heartfelt better than Alan Jackson.
His gospel album, Precious Memories, is also essential holiday listening. Remember, that album was originally recorded as a private Christmas gift for his mother and only later released to the public in 2006. That back-story permeates his performances in the best way possible, resulting in music of faith notable for its simplicity, sincerity, and lack of pretension.
Jackson's first holiday collection (1993's Honky Tonk Christmas) is a less frequent listen for me, but it makes for a nice change of pace every now and then. A Christmas album that includes versions of "If We Make It Through December," "There's a New Kid in Town," and "Please Daddy (Don't Get Drunk This Christmas)"? Sign me up.
I'm having an Alan Jackson Christmas and so should you.